Training & Coaching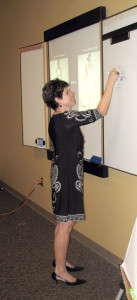 Would you like to explore the world of fashion consulting? Interested in color and figure analysis, trend forecasting, the art of a personal style consultation and much more? Consider taking the EIS training course: a rigorous, comprehensive curriculum developed and continually updated by Elegance In Style. 
3 day, intensive course that will springboard you into the world of fashion consulting. Of course, continuing education is always necessary, as in any profession, to advance your knowledge and expand your skills.   Minimum of 3 participants, maximum of 12. (24 hours/$1500). Additional fees may be incurred if training occurs outside of the DC Metro area.
One-on-one training over the course of 5 days, (30 hours/$2100), arranged at mutually convenient times in my studio. In this format, we are able to explore more deeply the areas that interest you most.
Certification is achieved with both formats.
If you are not interested in acquiring certification in fashion consulting, but would like to use the knowledge for yourself or to enhance your business, or to share with groups or clubs, or to simply bolster your skills, I am available for one-to-one coaching at my hourly rate.