Closet Calls
Closet Calls address a variety of wardrobe, color, and fit concerns, and are tailored to your specific circumstances:
Prior to your closet call we will ascertain your greatest needs via a short phone or email conversation. The session may entail:
Editing your wardrobe: I will kindly but firmly help you remove all garments and accessories that are no longer flattering, have reached their "expiration date", are beyond repair, etc. We will keep ONLY what you love, looks current, and makes you feel beautiful; you will feel so happy and liberated!
Pin garments for alterations to ensure a fabulous fit for your silhouette
Create a welcoming space for all of the "keepers" in your closet
**New Service: Your Virtual Closet, Look-Book & Finds. Maintaining an awesome wardrobe has never been easier! This fabulous software, available only to image professionals,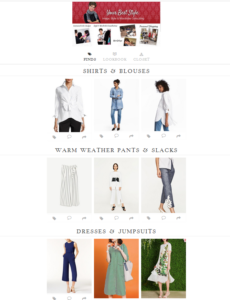 allows us to track your inventory, create outfit combinations from existing pieces as well as add new gems that will complement and enhance your style!
Ask me how to get started!!